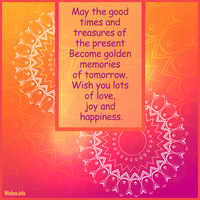 May the good times and treasures of the present Become golden memories of tomorrow. Wish you lots of love, joy and happiness.
Years will go past May your love forever last!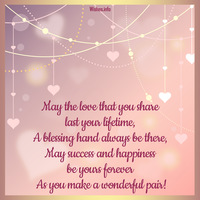 May the love that you share last your lifetime, A blessing hand always be there, May success and happiness be yours forever As you make a wonderful pair!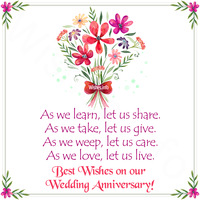 As we learn, let us share. As we take, let us give. As we weep, let us care. As we love, let us live. Best Wishes on our Wedding Anniversary!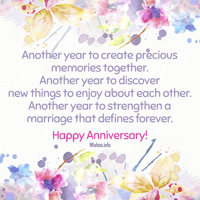 Another year to create precious memories together. Another year to discover new things to enjoy about each other. Another year to strengthen a marriage that defines forever. Happy Anniversary!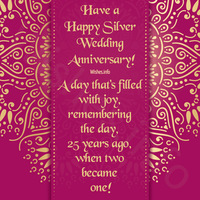 Have a Happy Silver Wedding Anniversary! A day that's filled with joy, remembering the day, 25 years ago, when two became one!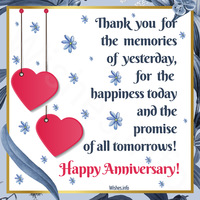 Thank you for the memories of yesterday, for the happiness today and the promise of all tomorrows! Happy Anniversary!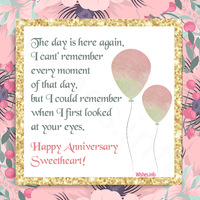 The day is here again, I cant' remember every moment of that day, but I could remember when I first looked at your eyes. Happy Anniversary Sweetheart!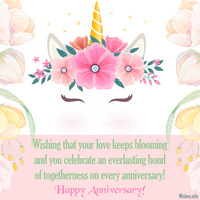 Wishing that your love keeps blooming and you celebrate an everlasting bond of togetherness on every anniversary! Happy Anniversary!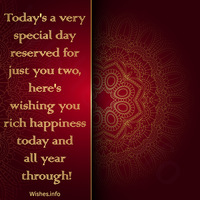 Today's a very special day Reserved for just you two Here's wishing you rich happiness Today and all year through!
Okay, marriages have their ifs and buts. But, the whole year you've both been secretly in love. Happy Anniversary!
No one else would understand our relationship, and no one else in this world would understand me the way you do. Happy Anniversary!
An anniversary marks another year of sharing as husband and wife.
Love seems the swiftest, but it is the slowest of growths. No man or woman really knows what perfect love is until they have been married a quarter of a century.
Happy Anniversary to a cute couple... Two lovely hearts who are inseparable!
Hand in hand together... This love will be forever!