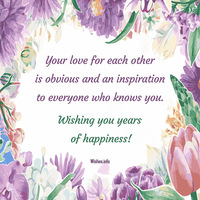 Your love for each other is obvious and and inspiration to everyone who knows you. Wishing you years of happiness!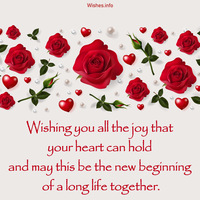 Wishing you all the joy that your heart can hold and may this be the new beginning of a long life together.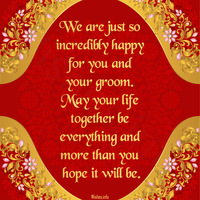 We are just so incredibly happy for you and your groom. May your life together be everything and more than you hope it will be.
Wishing you showers of happiness!
You're getting hitched! So excited for you! Can't wait to see the bride and groom as man and wife!
Wish you all the best for this wonderful journey you are about to embark on!
You are going to be a beautiful bride, and a wonderful wife. My best wishes always!
He popped the question and now its time to share your vows with each other. Remember those vows are your everlasting bond. Treasure them, and treasure each other.
As you prepare for your Big Day, may you be showered with happiness and blessings.
Happy Shower Day! Best wishes to "bride" and "groom".
A shower of good wishes for the bride-to-be. Be happy always!
Congratulations! Wishing you a lifetime full of joy and happiness.
Showering you with blissful wishes today and always...
From this day forward, you shall not walk alone His heart will be your shelter, his arms will be your home...