May the festival of lights be the harbinger of joy and prosperity. Here's hoping that this festival of lights brings your way, bright sparkles of contentment that stay with you through the days ahead. Best wishes on Diwali and New year.
May the divine light of Diwali diyas spread peace, prosperity, pleasure & positivity around you and your family. Here's wishing you a very Happy Deepavali!
May the New Year add more happiness and joy to your home and peace and prosperity to your life. Happy Diwali!
May the sparkles of crackers spread glitters of happiness around you And the light of Diwali lamps spread rays that continue to bless you! Happy Diwali!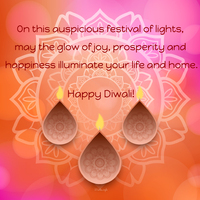 On this auspicious festival of lights, may the glow of joy, prosperity and happiness illuminate your life and home. Happy Diwali!
Sending you happiest wishes for a glorious Diwali!
May zillion lights of joy reflect on you And your family on this Diwali Day. Wishing you fun that sparkles, Love that shines, Happiness that overwhelms, Prosperity that overflows and peace that continues. Wishing You The Most Wonderful Diwali!
Deepavali ka shubh din laya khushiyon ki bahar Sidhh manorath sabke hon, mile manchahe uphar
May the holy chants of Diwali worship echo forever in your home As Goddess Laxmi and Lord Ganesh bless you with health, wealth and fame!
May the festival of lights bring sparkling progress and glittering success in your life. Happy Diwali!
On Diwali night, as the divine stars twinkle in the sky And earthen lamps waver happily on land, We wish for your success high as the sky With unbound joy and prosperity grand! Happy Diwali!
A night of worship with numerous diyas shining, Diwali comes every year with a silver lining. May this Diwali unfold divine blessings for you and your loved ones!
Sending loving Diwali wishes your way, May all things beautiful fill your day! Happy Diwali!
May this auspicious festival be the starting of a prosperous New Year for you and your family. Shubh Deepavali!
May the golden sunrise of Diwali day bring blessings of health, wealth and happiness for you and your family. Happy Diwali!
Before the golden sunrise Let me decorate each of the rays with wishes of success and happiness For you and your family. Happy Diwali!
May the auspicious cheer of this festival last forever and never depart And the happiness that you give others reflect in your home and heart. Happy Deepavali!
May the colors of rangoli and the sound of crackers be just a start To a year full of colorful joys, happy moments and unlimited fun! Happy Diwali!
As the sweet aroma of Diwali sweets and savories Fills the home with festive flavor And the felicitous noise of crackers Spreads the auspicious cheer To adore and bless, I wish you both were here Mom and dad, sending you Happy Diwali greetings May the brightness of Diwali lights last all through the year!
Sending you warm Diwali wishes straight from my heart... May all things bright and prosperous fill your home and never depart. Happy Diwali!