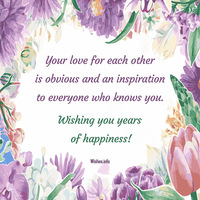 Your love for each other is obvious and and inspiration to everyone who knows you. Wishing you years of happiness!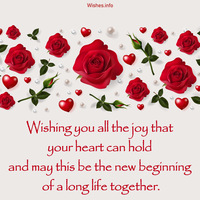 Wishing you all the joy that your heart can hold and may this be the new beginning of a long life together.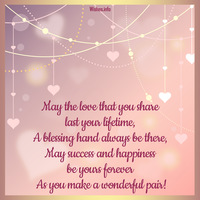 May the love that you share last your lifetime, A blessing hand always be there, May success and happiness be yours forever As you make a wonderful pair!
Many warm wishes for a lifetime of joy and togetherness...
May beautiful surprises await you. Happy Engagement!
I congratulate you both for your love and togetherness, and wish you peaceful and wonderful times ahead in life. May God bless both of you with warmth and care. Heartiest congratulations!
Once upon a time you met And shared much love and laughter May your Engagement continue the fairy tale Happily Ever After!
May God's blessings continue to be with you both! Happy Engagement!
You've been caught! Happy Engagement!
To a very special couple Who make a perfect pair This brings a wish for happiness In the future you will share
Congratulations to the future bride and groom! May your relationship last forever and your love last for eternity.
May your engagement be the start of dreams in your heart, that you'd like very much to come true, And may every new day, bring all the good things deserved by someone like you!
Here's congratulations For this special day May each engagement hour Be happy and gay, May it lead to a future That will just overflow With all the merriness You deserve to know
Wishing you showers of happiness!