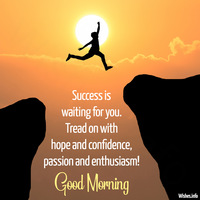 Success is waiting for you. Tread on with hope and confidence, passion and enthusiasm! Good Morning!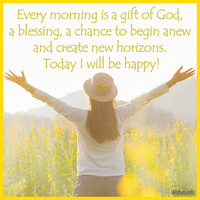 Every morning is a gift of God, a blessing, a chance to begin anew and create new horizons. Today I will be happy!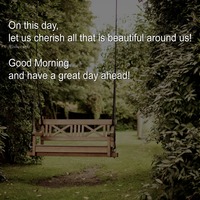 On this day, let us cherish all that is beautiful around us! Good Morning and have a great day ahead!
Early this morning God gave me 3 baskets of fruits - love, happiness and peace of mind to share with the person I love most. So please wake up and receive your share with morning wishes!
May your luck rise with the sun, shining brightly all the way May happy smiles and generous hearts richly adorn your day May the angels of heaven spread good cheer around And fulfill all your wishes today!
Love makes all things beautiful. Once groggy and lazy morning has now turned into expectation, excitement and butterflies in the stomach all because of LOVE.
Let go of the thoughts that do not make you strong. Good Morning!
Good Morning! Wishing you a day full of joy and laughter!
Sending you love and sunshine for a happy day.
Don't just drag out of bed every morning. Get alive and awaken your mind and body for the gift of a brand new day gift wrapped with sun light and air. Not just another ordinary day, it is the day of new opportunities.
Every accomplishment starts with the decision to try. Good Morning!