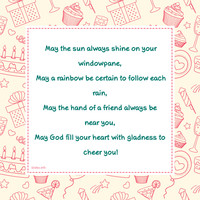 May the sun always shine on your windowpane, May a rainbow be certain to follow each rain, May the hand of a friend always be near you, May God fill your heart with gladness to cheer you!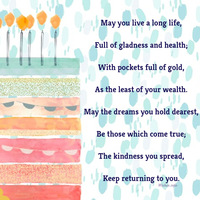 May you live a long life, Full of gladness and health; With pockets full of gold, As the least of your wealth. May the dreams you hold dearest, Be those which come true; The kindness you spread, Keep returning to you.
May the hinges of our friendship never grow rusty.
May the road rise up to meet you, may the wind be ever at your back. May the sun shine warm upon your face and the rain fall softly on your fields. And until we meet again, May God hold you in the hollow of his hand.
May the Lord keep you in His hand and never close His fist too tight.
Leprechauns, castles, good luck and laughter, Lullabies, dreams and love ever after. A thousand welcomes when anyone comes... That's the Irish for You!
May you enjoy the four greatest blessings: Honest work to occupy you; A hearty appetite to sustain you; A good woman to love you; And a wink from the God above.
May God be with you and bless you. May you see your children's children. May you be poor in misfortune, rich in blessings. May you know nothing but joy; from this day forward...
May good fortune be yours, may your joys never end.
May you always have walls for the winds, A roof for the rain, tea beside the fire, Laughter to cheer you, those you love near you, And all that your heart might desire.
May love and laughter light your days, and warm your heart and home. May good and faithful friends be yours, wherever you may roam. May peace and plenty bless your world with joy that long endures. May all life's passing seasons bring the best to you and yours!
May your pockets be heavy and your heart be light. May good luck pursue you each morning and night.
May your feet never sweat, your neighbor give you ne're a treat. When flowers bloom, I hope you'll not sneeze, and may you always have someone to sqeeze!
May the sound of happy music, And the lilt of Irish laughter, fill your heart with gladness, that stays forever after.
May the friendships you make, Be those which endure; And all of your grey clouds - Be small ones for sure. And trusting in Him, To Whom we all pray, May a song fill your heart, Every step of the way.
May joy and peace surround you, Contentment latch your door, And happiness be with you now, And bless you evermore.
For each petal on the shamrock, this brings a wish your way - good health, good luck, and happiness, for today and every day.