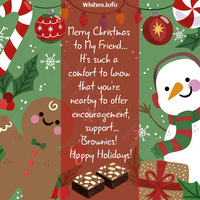 Merry Christmas to My Friend...It's such a comfort to know that you're nearby to offer encouragement, support...Brownies! Happy Holidays!
I want you to have a safe holiday, so on Christmas morning, do not stand between the kids and the presents!
Q: Why is Christmas just like a day at the office? A: You do all of the work and the fat guy in the suit gets all the credit.
In the old days, it was not called the Holiday Season; the Christians called it 'Christmas' and went to church; the Jews called it 'Hanukka' and went to synagogue; the atheists went to parties and drank. People passing each other on the street would say 'Merry Christmas!' or 'Happy Hanukka!' or (to the atheists) 'Look out for the wall!'
Christmas is mostly for children. But we adults can enjoy it too, until the credit card bills arrive.
I would say all I want for Christmas is YOU, But I really would love a new credit card as well!
Christmas is the season of peace and goodwill till you go shopping and get the bill.
Dear Santa, This year, please give me a big fat bank account and a slim body. And please, don't mix those two up like you did last year. Thanks!
Every Christmas...I only buy gifts for friends...when I find out... they already got me one!
I wanted to send you something gorgeous for Christmas but the mailman told me to get out of the mailbox...
Christmas time - When people want their pasts forgotten and their presents remembered! Have a Memorable Holiday!
Christmas is a time for remembering family - and trying to guess everyone's sizes! Have a Wonderful Christmas!
Santa told me you'd been very good this year , I told him it was just lack of opportunity :D Merry Christmas!
Can I have your picture, so Santa Claus knows exactly what to give me? Happy Xmas!