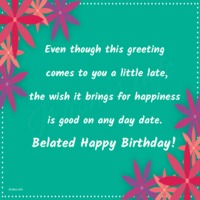 Even though this greeting comes to you a little late, the wish it brings for happiness is good on any day date. Belated Happy Birthday!
No doubt you got lots of birthday wishes yesterday, but who's thinking of you today? Me! Happy Belated Birthday!
Sending you belated birthday wishes. Hope you had the happiest birthday ever.