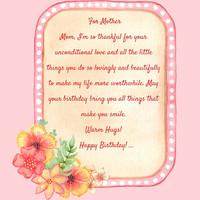 For Mother- Mom, I'm so thankful for your unconditional love and all the little things you do so lovingly and beautifully to make my life more worthwhile. May your birthday bring you all things that make you smile. Warm Hugs! Happy Birthday!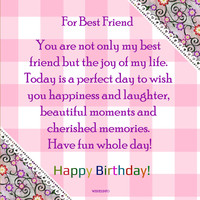 For Best Friend- You are not only my best friend but the joy of my life. Today is a perfect day to wish you happiness and laughter, beautiful moments and cherished memories. Have fun whole day! Happy Birthday!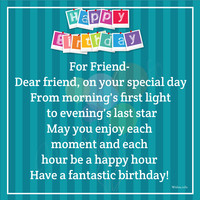 For Friend- Dear friend, on your special day From morning's first light to evening's last star May you enjoy each moment and each hour be a happy hour Have a fantastic birthday!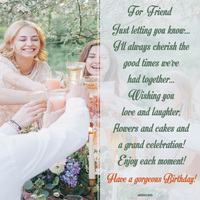 For Friend- Just letting you know... I'll always cherish the good times we've had together... Wishing you love and laughter, flowers and cakes and a grand celebration! Enjoy each moment! Have a gorgeous birthday!
For Grandson/Granddaughter - Whenever I remember your cute little face My heart smiles with pleasure and worries become less On your special day, I wish the stars for you May bountiful blessings befall upon you
For Sister- Sisters are best friends forever. On your birthday today I wish you much happiness, health and love! I wish you a long and happy life and success in whatever you do! Happy Birthday!
Have a magnificent birthday! May great health and great time be always yours.
May today be a day of love and joy and happy moments. Happy Birthday to a true friend!
You mean the world to me! Happy Birthday and here's to wishing you many more!
For Brother- It's a blessing to have a loving and caring brother like you. May all the happiness you share with the world return manifold to you and may your year ahead be filled with laughter and cheer!