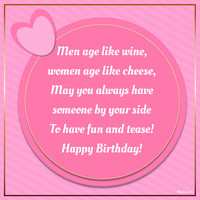 Men age like wine, women age like cheese, May you always have someone by your side, To have fun and tease! Happy Birthday!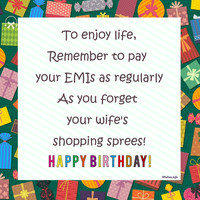 To enjoy life, Remember to pay your EMIs as regularly As you forget your wife's shopping sprees! Happy Birthday!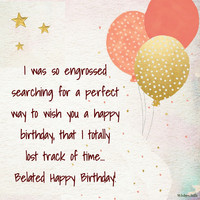 I was so engrossed searching for a perfect way to wish you a happy birthday, that I totally lost track of time... Belated Happy Birthday!
Your birthday is too important to be taken seriously, so let us celebrate it like crazy! Happy birthday!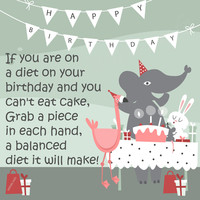 If you are on a diet on your birthday and you can't eat cake, Grab a piece in each hand, a balanced diet it will make! Happy Birthday!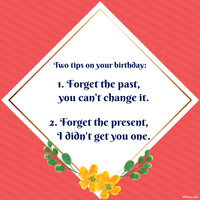 Two tips on your birthday: 1) Forget the past, you can't change it. 2) Forget the present, I didn't get you one.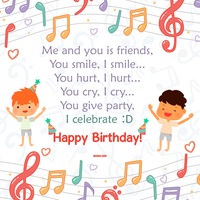 Me and you is friends, You smile, I smile... You hurt, I hurt... You cry, I cry... You give party, I celebrate:D Happy Birthday!
This card carries a positive vibe of forgiveness. I forgive you for looking younger than me! Happy Birthday Gorgeous!
At this age, you feel on top of the world! Happy Birthday to someone who does not get carried away ......... easily!!
Have a fantastic day filled with everything you love most...except me!
We hope this birthday brings a lot of joy and cheer in your life...without increasing your weight! Happy Birthday!
Hope your birthday's full of love, laughter and ...a little bit too much cake!
A true friend remembers your birthday, but not your age, Lets celebrate at the new hangout down the road, And create history on your Facebook page!
May you live long enough to be baffled by the technology people use to wish you happy birthday.