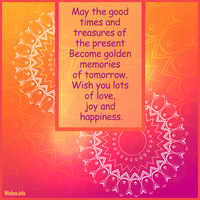 May the good times and treasures of the present Become golden memories of tomorrow. Wish you lots of love, joy and happiness.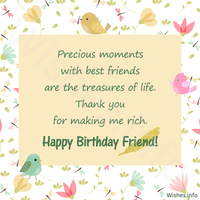 Precious moments with best friends are the treasures of life. Thank you for making me rich. Happy Birthday Friend!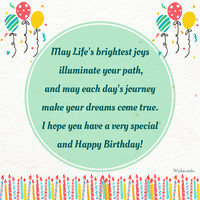 May Life's brightest joys illuminate your path, and may each day's journey make your dreams come true. I hope you have a very special and Happy Birthday!
Here's to another year of laughing until it hurts, dealing with stupid people and making awesome memories! Happy Birthday dear friend!
Thank you for being so awesome, friend. Cheers to you on your birthday!!
May this day be your greatest! Cheers and Happy Birthday!
May you have God's best in everything. Have a great day and a great year ahead!
May whatever you desire move towards you! Happy Birthday!
Sending you warm wishes and cheerful hugs on your birthday. Have a fun filled day!
Hope your birthday's full of love, laughter and ...a little bit too much cake!
Wishing you a day as special as you are...have an awesome birthday!
Beautiful birthday wishes for a wonderful wonderful you!
Happy Birthday friend! Only love and joy for your special day!
No doubt you got lots of birthday wishes yesterday, but who's thinking of you today? Me! Happy Belated Birthday!
Have a wheely good birthday!
Remain awesome and have a great birthday! Cheers!
May your dreams come true this year!...Happy Birthday!
Happy Birthday to an awesome You! Have a great day and a great year ahead!